s Products" Online Sales
Baby & Kids eCommerce is a broad shopping category in online retail. Almost every online store sells baby & kids products — whether it's an apparel, toys, furniture, FMCG or any other specialty store (with a few exceptions targeting the adult toy niche). This essentially means that baby & kids products are now sold in regular online stores as well as in specialized online outlets.
Even Tesco sells baby seats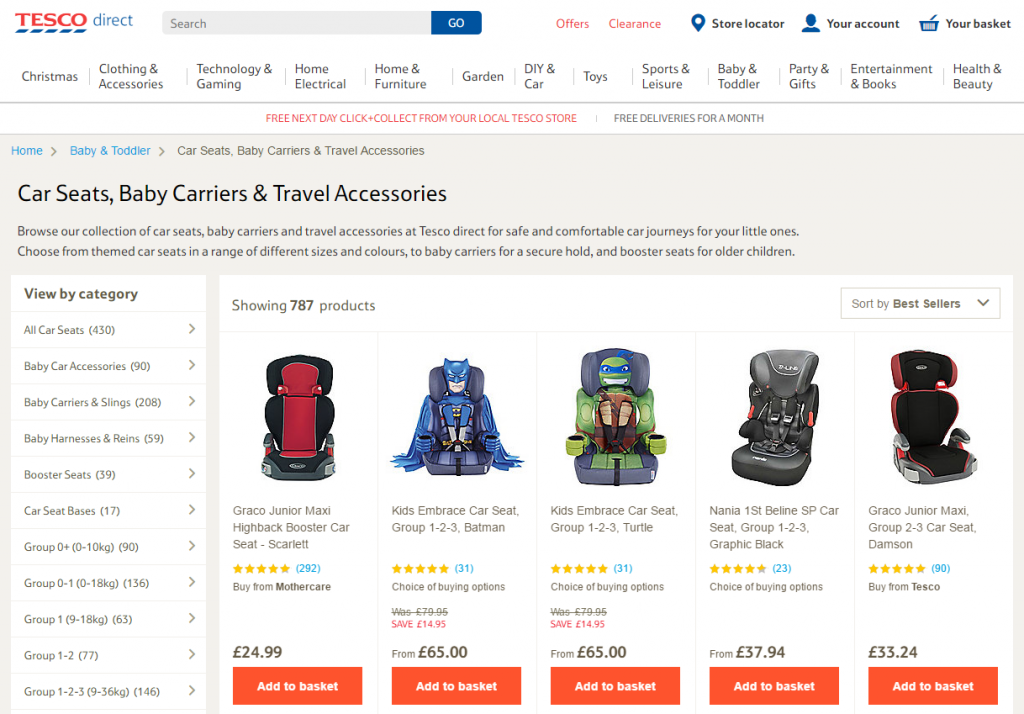 That's why every online business should include the specifics of marketing products in the Baby & Kids category into its consumer target strategy.
What parameters to consider in your consumer target strategy in the Baby & Kids category
All marketing tools, such as personalized recommendations, marketing emails, display ads and so on, rely on behavioral targeting algorithms. In this context, products from the Baby & Kids category are particularly demanding. Let's highlight the 3 key factors why.
Child's Gender
A blunt mistake to offer the same products equally to the parents of girls and boys. For instance, the success of "Hot Sale: Lego Technic construction sets" marketing emails will fall short if you mail them out to your entire customer list, rather than only to "families with boys".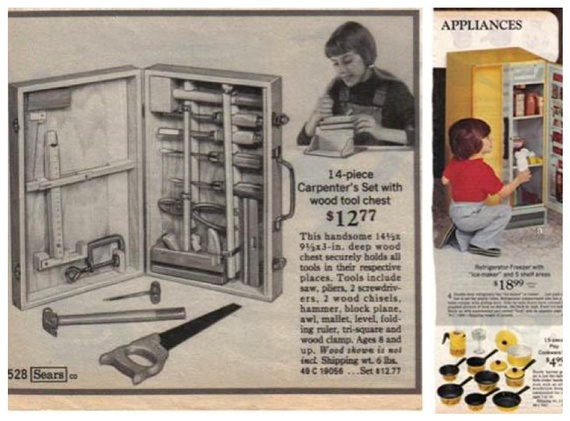 Fun trivia: in the 70s ads in the US didn't have any gender-specific targeting — a girl was playing with a carpenter's set and a boy – with kitchen appliances. Let's look at two ads below illustrating it:

Marketing specialists attribute this to the fact that the 70s were the time of the second big wave of the feminist movement – right after the post-World War II baby boom.
In 1975, Sears's catalog positioned only 2% of toys as "boys only" or "girls only".
Some retailers, even these days, continue upholding this practice. Be sure, though, most reputable online stores use strict gender differentiation in the Baby & Kids category as it directly affects sales.
Child's Age
The second important factor to consider — the age-to-size dependency. That's why apart from standard labels like S or M, this category can often be further refined based on child's age:


Child's Health
Child's health is of the utmost importance to their parents. In result, skin type, current condition, hypoallergenic properties and general quality of the materials play a very significant role in the purchasing decision.
These factors are especially important in such categories as baby goods (FMCG) and baby skin care products.
Buyer's profile (Parents)
The majority of all the purchases are made by a child's parents.
Consequently, knowing some parameters may be of use in marketing strategy fine-tuning:
Location. What city/town does the parent reside in? What time zone?A responsible parent is unlikely to be thrilled by a "Hot sale" mobile text at 3AM.
Income level. These metrics are easily obtained based on order history and are critical in any marketing activities — from targeted emails to product recommendations.
Activity level. Most active buyers, who read your emails and make regular purchases, do not require additional incentives — a decent loyalty program remains the best option. But every other buyer needs a tangible motive, like a good sale or a personal discount. However, shaping a personal offer without accounting for the buyer's activity level or without employing the right segmentation tool is next to impossible.
In this sense, correct targeting across every marketing channel comes down to pinpointing the vital traits of the child as well as of their parents.
How Stores Collect Correct Targeting Data
Now, when the four vital targeting parameters – child's age, gender, health status and buyer's profile – are determined, there still remains a complex task of getting the right organic data for precise targeting.
A lot of online stores collect this data manually by inviting registered buyers to fill out short questionnaires or participate in a survey.
A good example of this practice is Birthday Club, where parents are invited to give personal information about their children: number of kids in the family, gender, names and birthday dates of each child — right on the website.
This information is gathered in a very simple way — "Become a member and receive personalized birthday offers for your child's birthday". These "personalized offers" are, of course, discount or a small complementary toy to the order. In reality this is a brazen way to collect personal information from customers.
For instance, every personal account on PeekKids has this section: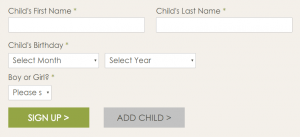 This is a sly way to acquire additional data, whether the purchase is made for the family's child or the birthday of a friend's kid. This information may also hold additional value and allows you to differentiate family purchases from foreign purchases.
An example: during the registration process on PumpkinPatch – customers are required to fill out the following box: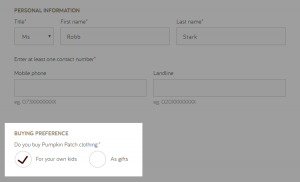 Some marketing specialists recommend you have a tete-a-tete with customers to gain their trust and determine their preferences to increase your sales.
All these methods are obsolete in today's digital world — they require a lot of action from the customer and take up a lot of their time, which is a commitment no one wants to make.
For the past 8 years there has been a stable trend in the Baby & Kids category of a 30% abandonment rate if the customer is required to register prior to finalizing the purchase. Clearly, this indicates that customers do not want to hand out their personal data and are afraid of filling out additional questionnaires. Even if they are interested in personalized recommendations, they will choose not taking any extra steps or reveal too much information to make a purchase.
REES46 Automated Segmentation for Precise Targeting
Our marketing & personalization suite REES46 can automate the whole process. Every new and existing customer gets a virtual profile in the system —an in-depth record with encrypted detailed data for number of children in the family, children's gender, age and other vital features.
There is more data to enhance precise targeting — car brand (if the family owns one) will allow the system to generate recommendations for baby seats and booster chairs. Packed with cross-connected data, REES46 excels in delivering state-of-the-art personalized recommendations for any consumer shopping at your online store.
The main asset of the REES46 Progressive Personalization function is the complete automation of the ecommerce marketing strategy. The basis of our algorithm are the browsing patterns and order history of over 190,000,000 customers. This data is used by trademarked programs, including Niche Solutions, to empower your online store for more precise targeting.
Targeting and Personalization — Does the Customer Really Need Them?
Latest researches show that parents, after all, are willing to disclose personal details about their children in return to personalized recommendations and to save time on searches.
Out of 57% of female employees 70% have children under the age of 18. Working parents are time constricted and don't want to spend hours searching for better deals online. It's only logical that they are prepared to share sensitive information with selected online stores to get product recommendations tailored particularly to their child